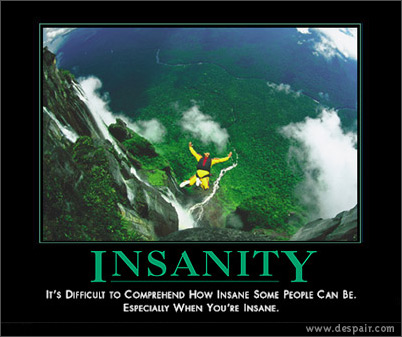 Am I insane? I wonder sometimes. I thought that this team could be competitive this season. I didn't think they were going to be .500 or make the playoffs like many fans, but I thought that they could at least develop enough chemistry and mature enough to hang with most teams night in and night out. I truly believed that they would be playing better as the season went on, not worse. Was I completely off-base or what? Nights like tonight make me want to trade the entire team, coaching staff and even the fans.
First, the players. The only player who seemed to know what his role was tonight was Hakim Warrick. Hak didn't hit any FG's, but he got to the line, rebounded a little and even got 2 assists! Everyone else was trying to do too much or too little. Mike Miller wouldn't shoot....again. No sense beating that dead horse though. Rudy Gay had the quietest 18 points I've ever seen while allowing both Josh Howard and Dirk Nowitzki to do whatever they wanted while he was "guarding" them. I used quotes there, because I'm not sure that what he did actually qualifies according to the definition of the word. For a guy many are touting to be "the franchise player", he certainly didn't look to assert himself tonight. Kyle Lowry missed as many free throws as all other players on the floor combined -- that's both teams for those counting at home. He started off the game as a tremendous playmaker, especially on defense, but fell back into old habits as he would put his head down and drive into the trees without any regard to his teammates' openness or positioning. Stromile Swift managed to find his headband long enough to log 1:45 tonight. Don't want to do too much too soon though Stro -- better ease back into things. Pau Gasol was given limited minutes as he continues to recover from his lingering back pain and I cannot really find much to fault him, but since he's gonna get mentioned in trade rumors anyways, let's get rid of him too!
Now for the coaches. I'd put 100% of the blame for Kyle's free throw mishaps on his young shoulders if the organization hadn't hired Mark Price to work with the team.....on free throw shooting! Earn your paycheck Mark! Speaking of guys named Mark.....errr......Marc. I would love to ask Marc Iavaroni a question: Coach, why is Mike Miller continuing to play 35+ mpg in blowouts? I know you weren't here for last season when he was so physically exhausted at the end of the season that he took the last couple of weeks off, but surely someone told you about the situation. I'm also quite certain that you are aware that he played over the summer for Team USA and could use some lighter minutes when the game is obviously out-of-hand. Let's see if we can do something about that, shall we?
Finally, the fans. As I noted above, Pau Gasol played tonight after missing the game Saturday night against the Clip Joint. Wait -- before we get into that, let me say "Kudos" to the fans for their vocal assault on the officials tonight, especially at the end of the 1st quarter when the zebras handed the Mavericks an additional 4-5 points by swallowing their whistles after witnessing obvious fouls. All three officials whould be reprimanded for that series of events. But Grizzlies fans at the FedEx Forum, can you tell me why you felt the need to boo Gasol after he missed a single shot late in the game with the home team still down 20+ points, given that he was one of the few players still giving effort? I understand and support your right to have your voice heard, but what was the motivation for that? Was it to tell Pau, "thanks for the past 6+ years, but don't expect a going away party when we convince Chris Wallace to ship you out for ten cents on the dollar"? Why not boo the players I called out above? The ones who played a lot more minutes than Pau and produced a lot less in those extra plays, by the way.
I don't know what else to say about this team, this organization or this city. It seems to me that all of them are suffering from a split personality disorder.
From Zack - Mavs Dominate 1st Quarter, Cruise to Victory over Griz
,
I had a little bit of free time last night and tried to come up with some
keys
to winning this game. But I couldn't convince myself any of my ideas were worth posting. Basically, only one of the ideas I worked through made much sense to me.
Keep it Close
.
Ya, I know the Griz are horrible in close games. But still, at least there
was
a chance to win. In other words, getting blown out before the 1st quarter or 1st half are even over is too much for this team to overcome. In just the last week, superior teams Orlando and Washington won by jumping on the Griz early and then just putting it in cruise control. I thought if Dallas could get a big lead early, this game would be over.
The score after the 1st quarter tonight was Dallas 33, Memphis 19.
Here is a figure that illustrates the 1st quarter struggles for the Griz.
Early on, the Mavs barely missed anything. Josh Howard was perfect from the field and the charity stripe. Memphis couldn't hit the broad side of a barn. By the time the game was at the half, the outcome was decided and the Griz had virtually no chance to win.
Although it is probably for the best that the Mavs just blew us out from the get-go. Violet Palmer was one of the refs and if there is anything that might rival the Griz's inability to win in Sacramento, it is our inability to win with Violet Palmer as a ref.
ChipC3's Perspective:
Who could have guessed that an officiating team with Violet Palmer would be at the game and Violet wasn't the worst referee. When Violet Palmer isn't the worst ref on the court the officiating is going to be worse than normal and tonight was a perfect example of officials allowing the Mavs stars to do whatever they wanted while the Grizzlies were called for every foul. Dirk Nowitski hit Rudy Gay so hard on the arm I could actually hear the slap and it was right in front of Greg Willard and nothing gets called. The Mavs use that to throw the ball down court where Josh Howard absolutely mugged Juan Carlos Navarro, throwing him to the court in front of Kevin Fehr and nothing is called. End result was Dallas getting a cheap layup and the crowd going absolutely crazy. The amazing thing was that this was the first quarter and the game was still tight. Dallas used the officials (and poor Grizzlies shooting as well) to run up a big lead. The game was over at that point.
Which brings up the second negative of the night. Who quits in the 2nd quarter of an NBA game? The effort was horrible but then again it was the second game of a back to back...for the Mavericks! Memphis sat at home last night and they were the team looking tired. I realize Gasol is hurt but Miller didn't assert himself, Gay didn't assert himself and the team looked lethargic. I mean it was really hard not to just get up and leave but the hope of the Grizzlies turning things around get me there.
Finally, one pet peave to discuss. How can Memphis fans seriously boo Pau Gasol on his first shot of the game? The man has an injury he is playing with and a rather noticeable group booed him for missing his first shot of the game. Way to thank one of the few players trying last night. It isn't like Gasol hasn't been giving his best this month either. He's one of four NBA players averaging 20 pts and 10 boards a game and some idiots boo him for missing a shot. Incredible. And people wonder why I question the Memphis fans.
So basically I am pissed at the team's effort, at the officials and at the fans. Other than that how was the play Mrs. Lincoln.