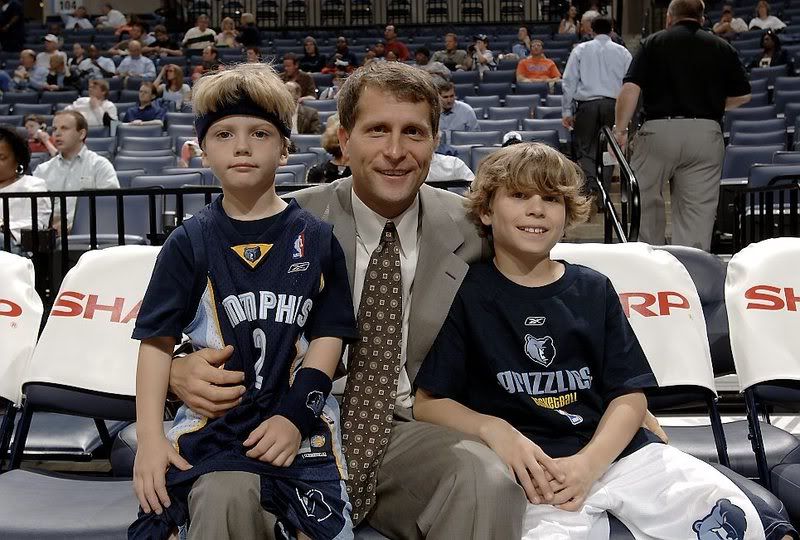 Eric Musselman was rumored to be high on the Grizzlies list when searching for a Head Coach to replace Hubie Brown. After the team went with Mike Fratello instead the Grizzlies were quick to make sure they kept Musselman on their radar naming him Assistant Coach. Eric patroled the sidelines for two seasons in Memphis before accepting the Head Coaching position at Sacramento. Recently, he has started the Eric Mussleman's Basketball Notebook which is quickly becoming a must read for basketball enthusiasts like the guys at 3 Shades of Blue. After some conversations on some of his blogs Eric was kind enough to do an interview via e-mail with the us.

3SOB: You have been out of the public eye since leaving Sacramento . What are you doing these days?
MUSS: Since Sacramento, I've been visiting a lot with coaches at all levels of the game. I went to Lawrence and spent almost a week with Bill Self at KU. I also spent time with Larry Eustachy at Southern Miss and Derek Thomas at Western Illinois (now Detroit Mercy). All of them are terrific coaches and I enjoyed picking their brains.

I also attended John Calipari and Larry Brown's coaches retreat in Tunica, Mississippi, and went to a few dozen college games around the Bay Area, from Cal to Stanford to St. Mary's, to USF and Santa Clara. I even coached a high school all-star game here in the Bay Area.

And this summer, I went to Athens, Greece, to speak to about 400 Greek coaches as part of a big coaching clinic over there that ran alongside the FIBA Olympic tourney. Great experience, especially since my older son was with me.


3SOB: One of the blogs you wrote on your site titled Does Screaming at the Refs Really Help a Team mentions that you believe that the refs usually get calls correct. However it has been a feeling of mine that a well timed Technical Foul call can often change the direction of a game both by making refs aware of a perceived inequity in calls and also to motivate your team. How does that correlate to your blog?
MUSS: You're right on. A well-timed tech can change the tempo of a game and bring a sense of urgency to your team. I really agree with that.

3SOB: Can you give me an example of when taking a technical helped your team?
MUSS: I think it was my 99th game as an NBA head coach with the Warriors. We had a game at Denver against the Nuggets where we were behind by a large margin , Our guys were playing as if we were tired, so I purposefully got thrown out. This got the team going. They really responded to a new voice in Tom Sterner, one of our assistants. We came back and almost won the game. The story would be better if we'd won, but I couldn't have been happier for the effort the team put out and the job Tom did. What I didn't like was the fine I got from the league for getting tossed.



3SOB: Another one of your blogs was titled The Role of Your Team's Leaders in a "Team Meeting". You mentioned Shane Battier as a great leader on the court. Do you believe that Memphis ' problems of late have to do with a lack of on court leadership on the team?
MUSS: I don't know the inner workings of the Grizz as many of the players who were there when I was an assistant there have changed teams, as so often happens in the NBA. But as with most young rosters, leadership develops over time and it develops organically. That is, some guys naturally step up and fill that role. If they don't, the team usually has problems.

3SOB: Do you prefer an on-court leader to a vocal leader or does a team need both?
MUSS: I think a team needs both types of leaders. It helps if your best players are also your leaders, like Tim Duncan in San Antonio and Tom Brady in New England. When your best players practice and play hard and really compete, it makes everything easier.

3SOB: How is Shane Battier a great team leader? Is he more of a leader by example or is he a vocal leader?
MUSS: Shane's a great leader in so many ways. First, he leads by example, by the way he plays between the lines, how he interacts off the floor in the locker room and how he lives his life away from the game.

He's always on time, pays attention to every game plan and executes game plan, is a positive person, and does all the little things to make your club function as a team. He can also lead vocally when the time is right or when it's needed, whether in practice, in a huddle, or on the floor during a game.

3SOB: Leadership, even with Shane Battier on the team, seemed to be a trouble spot for the Grizzlies when you were coaching (Jason Williams' apparent dislike of Pau Gasol and Bonzi Well's displeasure with playing time being examples). What was really happening behind the scenes at that time? Was the team as dysfunctional as it appeared at times?
MUSS: A team's chemistry is a complex thing. Personalities, likes and dislikes, etc. It's like any group that works together, whether it's a Boy Scout troop or a department within a big company, it's always a challenge to manage a group of people.

But ups and downs aside, the bottom line is that Memphis team won games. They reached the playoffs and it's tough to reach the postseason in the NBA.

3SOB: Mike Fratello left Memphis under a shroud of unsatisfied fans and unhappy players. What was it like coaching with Mike Fratello and were those criticisms justified?
MUSS: It's always a balancing act between playing the young guys and trying to be competitive and win games. Coach Fratello can coach uptempo. In fact, his Hawks teams in the '80s really played at a fast pace. I think they averaged close to 110 ppg with Nique, Doc Rivers, Spud, Kevin Willis and those guys.

3SOB: Jerry West has been getting some terrible press in Memphis lately including a blurb about him storming out of the draft room after Gerald Green getting drafted leaving Tom Penn to make the selection of Hakim Warrick. Did that really happen and what was it like working with Jerry?
MUSS: I genuinely loved working for Jerry West. He's a great competitor and has a high desire to win. I learned a great deal from him and he was nice enough to help me with the Kings job. He's always willing to help. I consider him a mentor and someone I can always go to for good advice. He's a pro and he's been around the game forever.

3SOB: You had some success in both stints as head coach and as an assistant coach. Do you plan on getting back on the bench in the NBA someday?
MUSS: Yes, I definitely want to coach again. It's my career, it's something I've chosen to do, but it's also something I really love. At the same time, I've enjoyed this past year, talking with other coaches, learning about the game, watching the game from a different perspective, and spending time with my sons. The last 12 months have been great.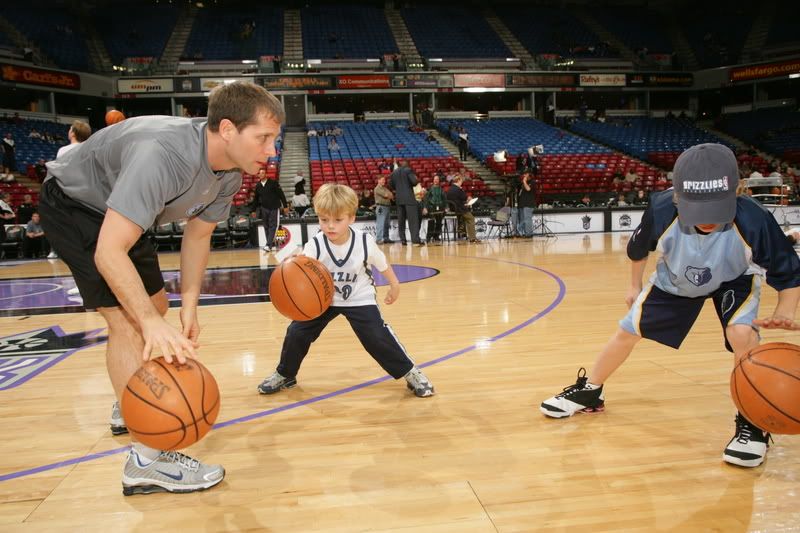 3SOB: What do you think about the Grizzlies point guards. Do any of them show the potential to be ʽa perfect point guard' in your opinion?
MUSS: Well, Mike Conley has a bright future. He's developing and could be a good leader I think.

I love Kyle Lowry's toughness. Players really seem to respect him. I think he's a solid back-up who can lead by example. Guys will follow his lead and play hard. That's important, but sometimes gets overlooked or downplayed.

OJ Mayo's a nice combo guard and Jaric is really a 2-guard who can play some point, though he's not a vocal type leader.

3SOB: Do you believe winning is enough in the NBA today? Since it is a business does showmanship and flair mean as much as your record?
MUSS: Ultimately, winning is the most important thing not only in pro sports, but at most levels of sports. It's how you're evaluated. I don't care how nice a guy a coach is, even at the high school level, if he loses all of his games, he's not going to be around long.

The object of any competition is to win. Period.

Talking with Eric via e-mail is interesting because the man has such a wealth of knowledge about the game. Eric also wanted me to mention that he loved living in Memphis. There were lots of great people and he is thnkful for his time here in Memphis. Eric has been rumored to be looking for a college coaching position but I hope he returns to the NBA some day. One thing is for sure, Musselman is a teacher of the game.