Just in case you missed part 1 of the 2008 NBA Draft Preview, it concentrated on what I consider tier 1 of the draft. Here is a recap of my order for the top 6:

1. O.J. Mayo

2. Eric Gordon

3. Michael Beasley

4. Derrick Rose

5. DeAndre Jordan

6. Donte Green

Part two will conclude the lottery portion of the draft (top 14) and is what I consider tier 2 of this draft as I see it. Tier 1 is for the impact players. In other words, players I think have a good chance to become All NBA type of talents. Some are more risky (Jordan) than others (Mayo) but they all have the potential to blossom to that level. Tier 2 is mostly for All Star level potential or borderline All Star players such as the Tayshaun Prince, Shawn Marion and Caron Butler types. Real good and could be multiple season All Stars in the right situation. Maybe could even squeeze in a 3rd team All NBA on a strong team but not center peices of championship contenders. Here goes tier 2: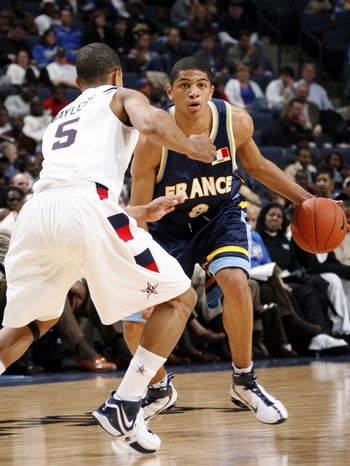 (7) Nicolas Batum - Batum is a scintilating athletic prospect. He burst onto the scene in Memphis at the 2007 Nike Hoop Summit where his skill combined with his athleticism allowed him to go off for 23 points on a series of thunderous dunks while shooting 3-5 from three point range. His length and athleticism would be nice if Gay's rebounding keeps improving enough for him to move to power forward. A combination of Gay and Batum in the passing lanes would be very disruptive. Batum seems to have more court awareness than Gay and will probably excel more as a passer. He still needs to improve his handles dramatically and his outside shot is inconsistent.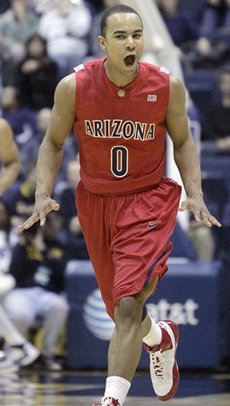 (8) Jerryd Bayless Becoming known as Montae Ellis with a lethal jumpshot. He probably should be used in the same way Don Nelson uses Ellis in Oaktown. Do not force him into the role of fulltime point guard early. Allow Bayless to use his speed with the ball, off the charts athleticism, and ability to get to the free throw line until he gets comfortable running an offense full time. He struggles running an offense and with turnovers but he isa willing passer when he has the ball. Think a more physical and athletic version of Juan Carlos Navarro minus the veteran savy. Next to Conley he would be forced to guard shooting guards eventually but initially he could come off the bench. Might be too small for the Grizzlies to take with Lowry locked in and Navarro likely to be resigned but his talent rates putting him here.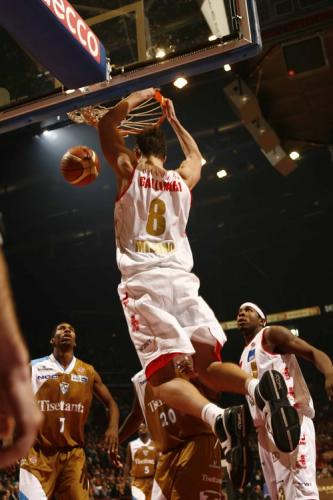 (9) Danilo Gallinari - The next Italian import and Bargnani, Danilo is a 6'8ish wing prospect. Probably more suited to play shooting guard where his height can somewhat compensate for his lack of athleticism. He is not a bad athlete but he does not have the ideal athleticism of an NBA wing. However, his skill set is off the chart. Very creative with the ball in his hands. Even without explosiveness he uses fakes and freezes well to get to where he wants on the court. He has nice form on his shot but he is not a "shooter". Seems to always be in attack mode with the ball in his hands. Defensively he shows to have good hands and anticiapation. Even without ideal laterall quickness, his effort allows him to defend well. Doing very well in Europe even at such a young age.


(10) Marreese Speights - My darkhorse to declare for the 2008 draft. He will be 21 when the 2008 season begins and played caddy to the Gator Boys during their final championship run. However, Speights is more of a physical specimen than any of those juniors when they declared. Looks to be a legit 6'10 and 250 pounds with good length. Speights uses his length and hops to attack rebounds in traffic. Has a very quick second jump and finishes with authority any where around the rim. Very good shotblocker and has been tutored for a year by three pre-professionals. Has been coached well and is probably a breakout performance in the tournament from exceeding this projection.



(11) Roy Hibbert - First off let me preface this by saying, I am not a fan of Hibbert. He is to mechanical and slow fotted to be highly effective in the NBA and not really athletically dominating enough to punish smaller players. He is skilled and smart though. He has a place in the NBA but I would not want him as my full time starter at center. Might become a better prospect once he does some body work and gets in optimal condition. To flabby and tends to tire fast. Will be able to score in the post in the NBA and will probably require double teams due to his height and skill level. Will need to measure long.




(12) Darrell Arthur - A very good young offensive prospect. Arthur is very good with his back to the basket and also very effective facing up. He has a left and right jump hook with his back to the basket. He has range out to 18 feet on his jumpshot. He is athletic and long enough for the position in the NBA. He does seem to lack in the rebounding and defensive aspects of the game and this might make him unattractive to the Memphis Grizzlies. However, he is one of the most accomplished scorers in college basketball. I am waiting to see how he does in his matchup with Michael Beasley.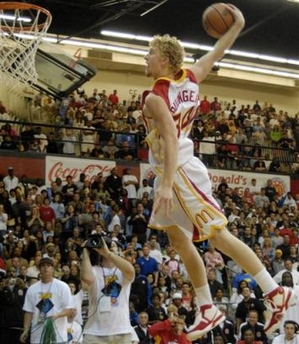 (13) Chase Budinger - Another player that has not really impressed me anytime that I have watched him the past two seasons. He is athletic and he can shoot but he doesn't seem to be able to put them both together during game play. Cannot create for himself or others off the dribble and really needs a lot of work in that area. Does not defend well and seems to lack lateral quickness. He will get taken much higher than his NBA potential suggests.






(14) Kevin Love - Depending on who comes out (B. Lopez, Koufos), this could be the perfect spot for Love. No, he is not athletic or long enough butafter watching Stromile Swift there is something to be said for consistent effort and being in the right place at the right time. If Big Baby Davis can be an integral part of a rotation then there is no doubt in my mind that Love can also. He is perhaps the most skilled college big. His draft status is very dependent on his combine numbers and his knee health.



Since it is unlikely (to say the least) that the Grizzlies make the playoffs and since we do not own another selection, I will only be updating my lottery selections from here on out. Hopefully, the updates will be weekly and I will concentrate on breaking down a potential lottery pick for an entire game per week. One game is not the best way to evaluate but I will try to pick games in which they will face some stiff competition and give us some insight into their NBA potential. I haven't looked at this week's TV schedule yet so I do not know who is up first but stay tuned for the One Game Breakdown.
Just missing the cut this week: Brook Lopez, Kosta Koufos, D.J. Augustin, Chris Douglass-Roberts, and Richard Hendrix.