Eli Savoie is the program director for AM 560 WHBQ, more commonly known as Sports 56. He also hosts the midday program with Greg Gaston. We were fortunate enough to have the opportunity to ask him a few questions that he graciously answered for us.

3 Shades of Blue: Your official title with Sports 56 is Program Director, as well as being the midday host along with Greg Gaston.What does a Program Director do on a daily basis?


Eli Savoie: As program director, I am responsible for the day to day on-air operations of the station. I make decisions on what shows, games, etc. we put on and oversee the scheduling of those shows or games. I am in charge of overseeing the on air staff as well as the producers and part-time employees that are involved in the programming on the station making sure all shifts are covered and everyone is doing their job properly. I also work with our sales department on promotions and sales ideas for the station.

3SoB: What led you to get into the radio business?

ES: I knew from a young age that I wanted to get into a sports related field since I was always a sports nut. In high school I decided that the media was the field I wanted to get in to. Once in college, I majored in Mass Communications and minored in History and Journalism and as I took courses in television, radio and print journalism, I realized that radio was where my passion was and I made the decision to pursue a radio career. It also didn't hurt that I had a face made for radio.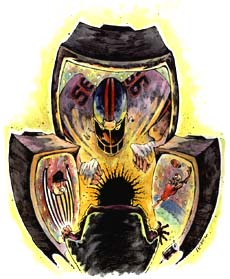 3SoB: You've been blogging since February 2005 at elisavoie.com. What do you think about the growth of the blogosphere over the past decade and the effect it has had on the world of sports?

ES: I think it is amazing. You can go on the internet now and find a blog on almost any subject in the world. It's crazy! As far as sports blogs go, they are all over the place. I think the biggest effect they have had is that information is much more accessible at any time of day because people can get on and post something at any time. On a negative side, the fact that anyone can have a blog, you don't really know what information can be trusted. I think a lot of the blogs out there are great and are very credible, but there are a lot of blogs that aren't and it makes it tough to figure out which ones are which.

3SoB: You have been experimenting with live blogging recently. We did some live blogging during the preseason and for the home opener before deciding that it was preventing us from enjoying the game in any respect. From your brief trial run, what are your thoughts on doing it so far?

ES: It does take away a little from the enjoyment of the game. I am still trying to figure out the best way to do it. I got a positive response from people on the first couple I did so I would like to continue to do it at Tigers and Grizzlies games, it's just going to take some fine tuning.

3SoB: For our post that asked local media members to predict the number of Grizzlies wins, you had this to say:


I expect the Grizzlies to be better this year, but I don't expect the huge improvement in wins that a lot of people are predicting. I am looking for the young guys to get a lot of experience and this team to start working towards being competitive in the playoffs two or three years from now. I think 33-35 wins is a realistic goal for this year as far as wins go, but more important to me is the development of the younger players such as Conley, Lowry, Milicic, Gay and Warrick. Barring any major injuries, I look for the Grizzlies to win around 35 games.


Do you feel that they are still on track to perform as you expected them to or is it better/worse than you thought at this point in the season?

ES: You know I think it's funny because when I talked about his team in the preseason, many people criticized me for being too negative when I said there was no way they could make the playoffs. I just didn't see how people were picking them to win twicw as many games as they won last year, teams just don't double their wins from year to year very often. I did think they would be vastly improved though, and I thought the 35 wins was very attainable. Right now, the fact they can't play defense at all makes me think it will be tough for them to get to 35, so if I had to reassess now, I would say that, without any major moves, I would expect around 30 wins. I do, however, think that they will make a fairly major trade before the deadline. I think either Pau Gasol or Mike Miller or both will be moved this year.

3SoB: You say that either Mike Miller, Pau Gasol or both will probably be moved this season. What do you think that GM Chris Wallace should seek in return, since he has stated that he won't take back only expiring contracts for Miller and doesn't seem sold on what the Bulls have reportedly offered for Gasol? Is there a player (or players) that you think would both be available and fit the future of this team that should be targeted?


ES: I have always said that the three things the Grizzlies have to get in return are young talent, draft picks and/or expiring contracts. Young talent is the hardest to acquire obviously because teams aren't as willing to part with it. I still think Pau's best fit is in Chicago because of their style and need for a low post offensive threat. I wish the deal could have gotten done last year because I think you could have gotten more, but I still think you might be able to pry Ben Gordon from them, but he's up for a contract so you have to sign him. I also like to Andres Nocioni and Tyrus Thomas. I definitely think the Grizzlies could get a deal done with the Bulls that makes sense for both teams. As for Miller, I have always said Denver is a perfect fit for him. The problem is their lack of quality young players so unless they are willing to give up Marcus Camby, it could be tough to get a deal done there.

3SoB: With Damon Stoudamire's agent demanding a trade following his move to the inactive list, the fan base has been abuzz with what should be done. Do you think that the Grizzlies or Aaron Goodwin handled the situation correctly? What should be done with Damon and what will be done with Damon (if you don't think they are the same thing)? (Ed note: This was asked prior to the rumors of a buyout being discussed surfaced.)

ES: The Grizzlies did what they had to do with Damon. In my opinion they even waited too long to do it. This team isn't going anywhere with Damon as the point guard so they have to get Mike Conley on the floor as much as possible. For Aaron Goodwin to say it was disrespectful is just dead wrong. He knows that it's just the nature of the business and this is what happens in the NBA. I understand that he and Damon would like him to get out of Memphis, but his comments were out of line. I think in the end though, I don't think the Grizzlies will find a taker in the trade market, so they will work out a contract buyout and Damon will move on, which is best for everybody.

3SoB: Who do you think the Grizzlies should focus on in the upcoming draft? (Feel free to base it on them being in the Top 5, 5-10, with a procured 2nd round pick, etc.)


ES: This question is a little difficult to answer without knowing what, if any, moves will be made before the trade deadline or before the draft in the offseason, but I will do my best. If the Grizzlies get lucky in the draft lottery this year then I think either Michael Beasley or Eric Gordon would be a great pick. Gordon is a great shooter and I think with him alongside Mike Conley and Rudy Gay you have some explosive scoring ability in the back court. I actually like Gordon a little more than Beasley, but Beasley would certainly fill a need up front, especially if Pau gets moved. From 5-10 I think the Grizzlies would have to consider Roy Hibbert. I'm not a huge fan of him because of his lack of offensive game, but he does provide size and a defensive presence. I would also look at OJ Mayo in this range, while he's not the shooter that Gordon is, he does provide another explosive scorer and athleticism. As far as the second round goes, depending on what way you go in round 1, I would certianly take a look at a guy like Joey Dorsey if he's available. Overall, the Grizzlies biggest needs continue to be athleticism and defense and strength up front, I think they have a chance to address at least one of those in this draft.

3SoB: What do you foresee regarding the future of the Grizzlies in Memphis? Will they be here for years to come in your opinion?

ES: I know there is a lot of concern about the team possibly moving, but I just don't see it happening. David Stern does not like having teams move and he likes the Memphis market for the league so it will be tough for anyone to move this team. The attendance is way down, but if they start winning again and getting to the playoffs, the fans will come and the franchise will be fine. In my opinion, they aren't going anywhere.
You can listen to Eli Savoie with Greg Gaston on AM 560 every weekday from 11 AM to 1 PM.