Spartacus' Pictorial Statistical Review

I didn't get to see the game, but based on the boxscore I can tell you a few things. Since stats are boring, I thought I'd liven things up with some pictures. Enjoy.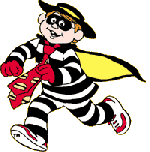 The Grizzlies had 8 players combine for 9 steals against Seattle. When they decide to make a movie about the Hamburglar, I expect all of them to audition.





Pau Gasol just signed an endorsement deal with LEGO after tallying 7 blocks tonight.

The Grizzlies made 48 field goals on 33 assists. Damon Stoudamire and Mike Miller led the team with 7 assists apiece.
The Grizzlies hit 48 of their 86 field goal attempts, which translates to a .558 success rate. We'll round that up to 56%, which is a very good number indeed. For those of you who noted the outline of the fine state of Oklahoma and drew the parallel to the inevitable plight of the Sonics -- kudos. For those of you Sonics' fans in the Seattle area cursing my very existence -- my sincere apologies for being a horrible person.
Comments from Chipc3:
I did get to see the game and I noticed Grizzman wasn't in his seat. Owl sat in her's even when the Grizzlies honored to veterans returning from service for our country. Many people showed up dressed as empty seats in the expensive section. Pretty pathetic.
That was the only thing that got me down tonight. As Spartacus mentioned the passing game was clicking tonight and most of the best passes came by simply making the extra pass. Gasol especially drew defenders and then made great passes to wide open players instead of forcing the issue himself. Great game on the offensive end.
Rebounding was a problem but the turnovers being created offset the losses on the glass. Darko was missed tonight but Stro's ability to anticipate the extra passes really allowed him to have an incredible offensive game.
I thought when I read Iavaroni's comments about fighting back from behind that it was a message to Damon Stoudamire to pick up his play. Tonight Damon was incredible. It was the best I've seen him play since that horrible day in Portland. He created offensive opportunities, he hit the open shot and he harrassed Earl Watson all night. Great job Damon.
Of course, Kyle kept the heat on him as well but made a few sloppy turnovers that showed me he isn't quite ready to take over just yet but the time is coming soon.
Warrick passed the ball tonight. I don't know if he was credited with an assist or not but he hit the open man instead of forcing up a wild shot. He looked like he is starting to understand what Iavaroni expects of him.
I could go on but everyone played well tonight. Just a reminder, Seattle was playing their 5th straight road game and were obviously tired. It was nice to get an easy win but don't read too much into this victory. Toronto Wednesday night will be a better test on how the team is developing.