The writers at 3 Shades of Blue have had the great fortune to interview many of the main figures at the Memphis Grizzlies. From Chris Wallace and Michael Heisley to Coach Iavaroni and some of the players we have been informed and educated in the many aspects of the team from an insider's point of view.

Today, we have probably the most moving interview we have had the pleasure to be involved in.

Last season the team's mascot Grizz went absent for most of the season. Eric McMahon, the man inside the bear suit, was struck down with Hodgkin's Lymphoma a very dangerous disease. In an unprecedented move the team refused to replace him with another person and instead became involved with other mascots across the country in an incredible gesture of support by others teams mascots coming and rooting for Grizz and the Grizzlies in his place. Today we bring you the first in depth interview Eric has given on what it has been like for him.


photos by Joe Murphy, NBAE Photos

3SOB: Eric, you are being promoted as returning on Opening Night. How long has it actually been since you worked a game for the Grizzlies?
EM: Yes I am planning on returning opening night! The last game I performed in was on Dec. 17th vs the Golden State Warriors. I had a biopsy on my neck on Dec. 13th performed at a home game the next day then again on the 17th. I then received my results that I had cancer the morning of Dec. 18th and was immediately put on medical leave because there were some very necessary procedures that I had to get taken care of before I could start Chemotherapy which I immediately started a few days later.

3SOB: Can you tell us what that last year of your life has been like?
EM: The last year of my life has been a roller coaster to say the least. My first reaction when I was diagnosed was pure devastation. My doctors did a great job of putting my mind at ease and letting me know that I had a great chance at beating this. When I first started chemo it was tough but I was getting by. That was until I got a bacterial infection in my stomach that put me in the Intensive Care Unit for a month. The infection had gotten so bad that I got blood poisoning, my liver and kidneys shut down and my lungs collapsed.

My family and closest friends immediately flew out to Memphis to be with me because it was a real touch - and- go situation. Luckily for me I don't remember much of that time but I eventually got over the infection, out of the danger zone and was released and moved to Arizona to continue treatment at the Mayo Clinic. Once I was moved out there I started getting some strength back, started walking again and my body started to respond to the chemo!

3SOB: So you are totally in remission now?
EM: Yeah, I have been in remission for 4 maybe 4 and a half months now. Of course you are never 'cured' with cancer but I am cancer-free right now. I went back to the Mayo Clinic a little while ago and was given a clean bill of health.


Photos by Joe Murphy, NBAE Photos

Who arranged for the mascots of other teams to come and replace you at the Forum? Did you ever get to see these guys?
EM: Once I was diagnosed I consulted with a few other mascots in the league, they expressed their thoughts and prayers and wanted to find a way to help out the Grizzlies because they felt that the organization was doing something unprecedented by not replacing me. A few of the mascots contacted our Senior Director of Marketing John Pugliese and pitched the idea. From there more mascots from around the league wanted to help in any way and rearranged their schedule to be able to make a trip to Memphis at a shared expense with the Grizzlies!

I was only able to see two of the mascots while they were in town. I was still in the hospital at the time and Rufus Lynx from the Bobcats and his wife stopped by to check on me, and a couple nights later the Coyote from the Spurs dropped in. It was such a nice surprise because I was still a bit out of it and it really helped lift my spirits to have some of my buddies stop by. True to form the Coyote, before entering my room took a doctors coat and mask, put some gloves on and busted through the door asking if I was ready for my sponge bath!

Once I was released from the hospital I was immediately moved to Arizona so I wasn't able to visit with the other mascots while they were in town.

3SOB: What does being a mascot mean to you?
EM: Being an NBA Mascot is a dream come true, I love being able to put smiles on faces, lift spirits of sick kids and cause havoc around the city. I grew up in Phoenix, Arizona and I though the Phoenix Suns Gorilla was the coolest thing in the world. I remember going to games when I was younger and watching him fly through the air with no regard for his body. Years later after I graduated from college I was able to perform with him on the Suns dunk team. He taught me everything I know, and saw some potential in me. I am very lucky to have the best mascot in the world as my mentor and teacher. Now I just hope to do for the city of Memphis and the Grizzlies as he did for Phoenix.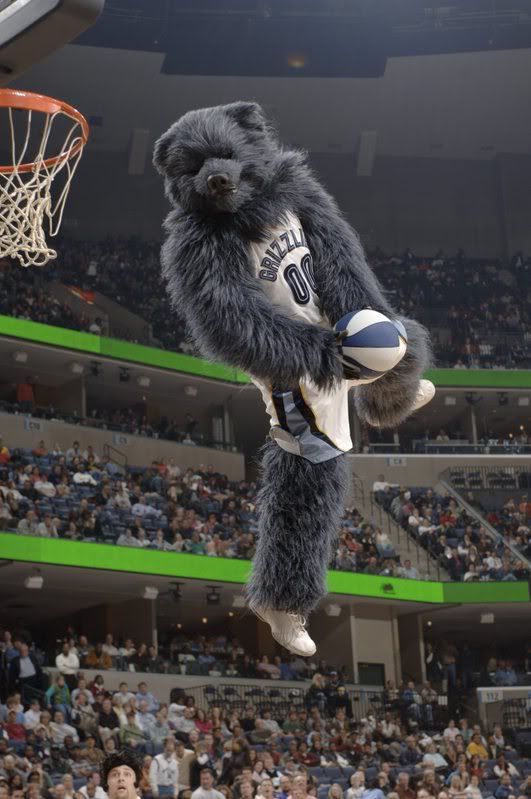 Photos by Joe Murphy, NBAE Photos

3SOB: Do you see your return as Grizz as an important part of your life returning to normal?
EM: When I started to get sick, going through all the treatment with all the rigors that go along with it, I would just lay there and think about the day that I would just feel normal again. I took my body and health for granted. Now that I'm in remission I finally feel that my life has some normality again but something has been missing. I have been pushing myself hard in the weight room and doing a lot of cardio to get back in shape. I can't wait to get in front of fans and perform again on Opening Night. That's when I really feel that all the pain and horrible times were worth it and my life will be back to normal.

3SOB: How much support have you received from the Grizzlies organization?
EM: The Grizzlies have exceeded every expectation that I ever had! It started with Andy Dolich and picked right back up with Greg Campbell. One of the most devastating parts of being diagnosed with cancer was I thought I was going to lose my job. I called John Pugliese and Andy the day I found out, right away I was assured that I was part of the family and they would do everything in their power to make sure the only thing I had to be focused on was winning this battle. Talking with other mascots around the league they all said that they would have been replaced. For the Grizzlies not to do that and let the city know about my battle was remarkable. I have received hundreds upon hundreds of letters and cards from all over the city and world for that matter with their well wishes and prayers. The city of Memphis embraced me as one of their own and for that I am truly grateful.


3 Shades of Blue has always encouraged fans to come to the games and cheer for their hometown major league franchise. Talking with Eric puts a different perspective on things. I hope everyone who reads this interview will come out for the Opening Night game if not to cheer for the Grizzlies on the court at least for the man behind the Grizz Mask. His turnaround this season is worthy of a huge response from the community.

HDTV is here: The Grizzlies are broadcasting 10 home games in HDTV this season. The games are Friday, Oct. 31 vs Orlando Magic, Monday, Nov. 24 vs San Antonio Spurs, Tuesday, Dec. 16 vs New Orleans Hornets, Friday, Dec. 19 vs Charlotte Bobcats, Friday, Jan. 2 vs San Antonio Spurs, Tuesday, Jan. 27 vs Denver Nuggets, Wednesday, Feb. 4 vs Houston Rockets, Saturday, Feb. 7 vs Toronto Raptors, Monday, Feb. 9 vs
New Orleans Hornets and Saturday, Mar. 21 vs Boston Celtics.