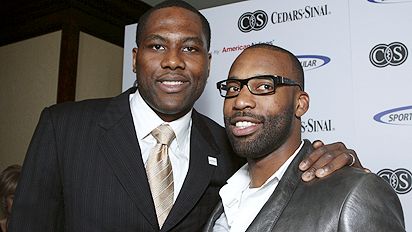 2008 NBA Offseason starts off with a bang!

The 2008 NBA free agency period has gotten this offseason off to a bang. It seems that Elton Brand and Baron Davis hatched a plot to make the Los Angeles Clippers more significant, while the two of them can work on their blossoming second careers as movie producers. The Clippers have vaulted themselves into the 10 team battle for the Western Conference playoffs. At this time: Golden State, Sacramento, Seattle, Minnesota and your Memphis Grizzlies seem to be on the outside with the Kings and Warriors probably making moves this summer to join the fight. Davis' defection from NoCal to SoCal leaves the Warriors with enough caproom to offer even a veteran a MAX contract. Accordingly, the rumor mill has Warrior GM Chris Mullin offering Gilbert Arenas $100 million dollars to return to the Bay area. At the time of this writing, Arenas was thought to be leaning toward turning down that ridiculous offer to accept a more retarded offer from the Washington Wizards of 6 years and $127 million dollars. I guess there is no recession in the NBA.

What does all this mean for the Memphis Grizzlies?

The Grizzlies are still one of the few teams remaining with enough caproom to make an NBA player drool. However, the landscape of the Western Conference makes it likely that unless they signed a true 1st team All NBA talent (none are available), they still could not get into the Western Conference playoff picture. That is the reality of our situation. So I expect Grizzlies GM Chris Wallace to keep his plan in motion: increase flexibility and collect assets for future use.

Now this does not mean the Grizzlies will be inactive this offseason. I think this is likely to be the most active offseason in Grizzlies history. I just do not expect them to rush out and make a splash with a headline grabbing free agent offer. The Grizzlies are in need of a veteran inside presence. They also need to thin the ranks of their guard rotation and maybe add a veteran backup for Rudy Gay.

A Deal to obtain a vet and thin the guards

The Grizzlies currently have an interior rotation of Hakim Warrick, Darko Milicic, Darrell Arthur, Antoine Walker and hopefully Marc Gasol. Unfortunately their is no real experience or proven toughness in this group. At this point Darko is virtually untradeable, so the most likely player moved is Hakim Warrick especially since he is due for a contract extension this summer and becomes a restricted free agent next summer if not extended. Warrick has proven himself to be a capable offensive player in the NBA but I do not think he fits into Chris Wallace's long term plan.

The veteran player we obtain must be on a reasonable contract and must not disrupt the Grizzlies plan of cap flexibility. Also, the guy has to be tough presence on the boards. My top 5 list of obtainable veterans are: Reggie Evans, Joe Smith, Jason Maxiell, Malik Rose, and Anderson Varejao. Of this group I think Reggie Evans is the most interesting. Today Atlanta power forward, Josh Smith, is in Philadelphia looking to sign an offer sheet. The 76ers need to clear enough caproom to offer Smith a contract that Atlanta will be unable to match.

Here is my proposal: Reggie Evans, Calvin Booth, and Phillies 2010 1st round draft pick for Hakim Warrick and Kyle Lowry.

This deal gives Philadelphia capable backups at power forward and point guard while giving them enough caproom to offer Josh Smith a maximum contract. The 76ers keep their 2009 pick and are owed a pick from Utah that will compensate them for the pick they are giving up. The Grizzlies get a banger in Reggie Evans who can come in and start this season to stabilize the young starting lineup. Calvin Booth is an expiring and could be waived immediately. This deal for the Grizzlies would be be cap neutral in 2009 as Reggie Evans+minimum cap hold for an empty roster spot is about equal to the 2009 salaries for Hakim and Kyle. This also gives the Grizzlies three draft picks in the next strong draft class of 2010.

The Grizz after the trade

PG: Micheal Conley, Javaris Crittenton
SG: O. J. Mayo, Marko Jaric
SF: Rudy Gay, Greg Buckner
PF: Reggie Evans, Darrell Arthur, Antoine Walker
C: Darko Milicic, Marc Gasol, Calvin Booth

This gives the Grizzlies 12 players on the roster and about $14 million in expiring contracts that can be used if an opportunity falls into their lap. All they would need to do is pick up a D-Leaguer at SG/SF to complete the 13 man roster and resign Andre Brown if they cut Booth. This gives the Grizzlies a fairly balanced roster with some toughness in the post to help the young guys bang on the inside without hurting the Grizzlies future cap flexibility.

I admit this isn't as sexy as offering Josh Smith $80 million dollars but it keeps this Grizzlies on track to their goal.