Mike Miller may want to tweak his new shoes just a bit.

Miller was wearing his personally designed shoes for the first time in Sacramento and had what can best be described as an off-night fouling out with 16 pts in only 32 minutes. Mike did hit the longest 3 pt shot I have ever seen him make. He was closer to the midcourt circle than the three point line.

but I digress. This game was all about three people: Poole, Delaney and Grillo.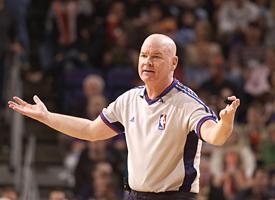 Who are they you ask? The referees assigned to screw up the game by Stu Jackson. You remember Stu Jackson don't you?

Memphis was called for 32 fouls. In a 48 minutes game that is 2 fouls every three minutes. Of course this game was played over 53 minutes so it wasn't quite that bad but it was still pretty ridiculous. In overtime the Kings had one basket, one basket with a free throw and 4 foul shots. 5 of their 9 points came from the line.

In comparison the Kings were called for 20 fouls. The referees made sure that everyone knew they were the real stars of the game in overtime when they fouled out Miller for not running away from Kevin Martin (could it be his shoes?) and then completely ignored the mugging Kyle Lowry received on his drive to the basket.



I could go on and on about the poor officiating but it was obvious if you watched the game and unbelievable if you didn't. I promise not to talk about them anymore.

There were some positives to take from this game. A lot of positives actually. Who would have thought that Rudy and Mike would combine for 11 fouls (damn, I was supposed to put the refs behind me), 27 points, 8 rebounds and 8 turnovers and still Memphis had opportunities to win the game at the end of regulation and OT if the refs had called the fouls (oops, there I go again).

The Grizzlies are playing defense. I know that sounds strange and it probably shocked the refs which is why they called the game the way they did (damn I did it again) but Memphis held the sharp-shooting Kings to just 39.8% from the field and 23.3% from the field. If the Kings hadn't been next to perfect from the line (30-31) then the Grizzlies would have won this game easily.



Kyle Lowry was incredible. Damn close to superhero-esque as he nearly scored the game winning shot despite Anthony Johnson holding his off-arm and Mikki Moore clubbing his shooting arm on the last play (I'm trying guys). Kyle finished with 16 points, 5 rebounds, 5 assists and 4 fouls (sorry). His impact on the game was far more than the numbers however. Kyle played good defense, woke up the offense and was a difference maker every moment he was on the court. It is two bad he missed his last two free throws or he would have won the game in spite of the refs (I can't help myself).

Javaris Crittenton continues to look great nearly getting his first double-double with 13 pts, 9 rebounds and 3 assists. He really seems to be getting into a nice groove and shows a lot of promise for the future. For those keeping score at home that is 29 pts, 14 rebounds and 8 assists from the backup guards. Juan Carlos Navarro threw in 9 pts including a 3 pt shot bringing his season total to 138 3 pters made. He is twenty 3's short of the rookie record with 11 games remaining.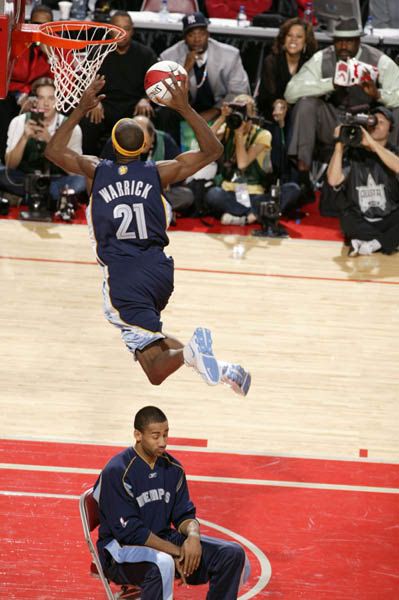 Hakim Warrick was unstoppable in the 1st half with 20 pts. While he cooled off after halftime he still led the team in scoring with 26 pts and 7 rebounds. Hak also set the most impressive pick of the season when he flattened Ron Artest on the final play of the game to free up Kyle for his foul plagued drive to the hoop.

I give up. You can't talk about this game and not mention that Rudy and Hak had 5 fouls each to go with Mike Miller fouling out. These guys aren't exactly reputed to be the most intense defensive players after all. Milicic and Kyle getting 4 fouls each is understandable but when your top three scorers have a combined 16 fouls you are going to struggle.

The good news is that since Minnesota lost as well Memphis is still tied with the TWolves for the 3rd worst record and the guaranteed top 7 draft pick and a great chance for a top 3 pick. The youngsters are playing great. At one point Memphis made a run with Conley (20), Crittenton (19), Rudy (21), Darko (22) and Hak (25) on the court. That is some serious youth playing some good basketball.

There is hope for the future if the refs would just get out of the way.




Or maybe it was Miller's shoes...