In our now world reknown Q&A with bloggers from other lottery bound teams (and yes we received an email about the Interview series from someone in Asia which qualifies this as world reknown now), we get to know probably one of the least likely teams to be an actual lottery team this season. Denver has been considered a shoe-in to sneak into the last spot in the Western Conference since January but still finds themselves 1.5 games out of the 8th spot with 10 games remaining. The Nugg Doctor was kind enough to take time from the NCAA Scouting Party to help us out this week.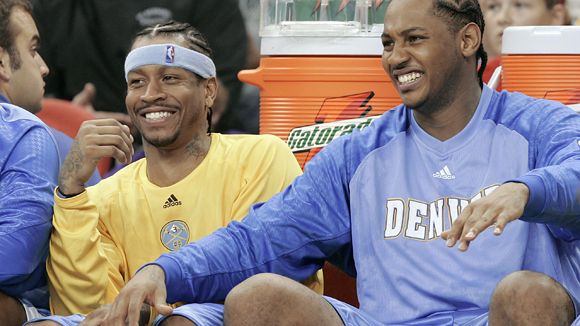 1. The Nuggets currently have a former MVP (Allen Iverson), a world class All-Star (Carmelo Anthony) and the reigning Defensive Player of the Year (Marcus Camby) on the roster. How is it possible that they are outside the playoffs right now with that level of talent?

The Nuggets can lean on a number of excuses such as injuries and the West being so tough just to mention a couple, but the real reason the Nuggets are on the outside looking right now is because they are inconsistent. Not AI, 'Melo, or Camby so much (although you can say Marcus's scoring is a bit hit or miss), but sometimes finding that third guy who wants to step up his game is a struggle for the Nuggets. Even with AI and Anthony doing amazing things night-in and night-out they can't get it done alone. Some nights it can be Linas, J.R., or Kenyon, but for the most part there is no consistent third offensive option. The other problem the Nuggets have had is playing solid D. Not just in stretches, but over entire quarters and halves. See, they are so good on offense some nights that they rely too heavily on the ball going through the net and forget to stop anyone on th other end of the floor.


2. Whose team is it -- Melo's or AI's?

Tough question... I'll do my best Swiss impression and stay nuetral on this one. Some nights it's 'Melo's and on others it's The Answer's. It just depends on how the first quarter plays itself out. Honesty, both players could probably lead the league in scoring if they didn't play on the same team. Individually, they are both that gifted.

3. Who is the one guy on this Nuggets team that you hope and pray is gone for next year?

That's easy, Yakhouba Diawara! He needs a few years in the CBA. I've never seen a professional ball player look that uncomfortable with the ball in his hands on offense.