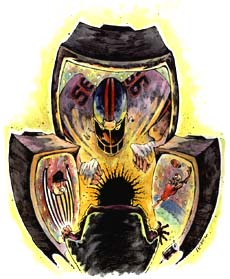 This is something of a random post, but I'm just about to crack. Let's review my TV viewing over the past few days:

Thursday: Louisville vs. MTSU -- absolute scoring bonanza

Friday: U.S. Open
NASCAR Busch Series race

Saturday: Miami vs. Oklahoma
Alabama vs. Vanderbilt
West Virginia vs. Marshall
Nebraska vs. Wake Forest
Oregon vs. Michigan
Fresno State vs. Texas A&M
Florida State vs. UAB
South Carolina vs. Georgia
Hawaii vs. Lousiana Tech
LSU vs. Virginia Tech
U.S. Open Women's Final
PGA - BMW Championship
NASCAR Nextel Cup race
UFC 75 - highlighted by Quentin "Rampage" Jackson vs. Dan "Hollywood" Henderson

Sunday: Titans vs. Jaguars
Panthers vs. Rams
Redskins vs. Dolphins
Chargers vs. Bears
Cowboys vs. Giants
U.S. Open Men's Final
PGA - BMW Championship
Braves vs. Nationals

Needless to say, I've been living a sports fan's dream life the past few days. And I've still got Monday Night Football tomorrow to look forward to! It is entirely possible that my head will explode when basketball season starts. Training camp alone might be enough to push me over the edge.