Hakim Warrick's time was a tale of two seasons. The first half he was buried on the bench behind Gasol at the PF spot. In the 2nd half he broke out in the post-Gasol era to suddenly show he can score in the NBA. He can rebound in the NBA. He can't play defense in the NBA however which made it necessary for the Grizzlies to go almost exclusively to a zone defense the last few months of the season. That isn't good for an NBA team.

As a starter Hakim averaged 16.6 ppg, 6.9 rpg and 1.0 apg. Frankly I was surprised to see he averaged one assist per game since he never seemed to pass the ball. Chris Herrington described Hak in the pre-season as possibly the worst passer in the NBA and Warrick did nothing to change that opinion during the season. His numbers seem more than adequate for a starting PF until you look a little closer. 6.9 rpg is way below average for a starting PF. 1.0 apg is a joke and he only gets 0.5 bpg. That is ridiculous for a leaper like Hakim. Is it that he just doesn't know how to time his leaps to influence shots or is it that he just doesn't care to try?


Hak will turn 26 in July and after 4 years in the league he has shown little in the way of overcoming his deficiencies and it seems obvious his role is better suited to a bench player providing instant offense than as a starter. When people state that Memphis needs a more bruising presence in the paint they are referring to Warrick not being enough of one.

On the bright side Hakim has really improved his range this season. His 3 pt% was above Kyle Lowry, Javaris Crittenton and Casey Jacobsen for instance and was getting better as the season progressed (unlike Casey). Warrick is able to take some of the more lumbering PF's away from the basket with that range opening up lanes for the Grizzlies guards to penetrate into. When the point guards outside shot isn't being respected they need someone to open up spaces for them and Warrick excelled in that role. If he continues to develop that range, and the point guards learn to hit open outside shots, he could become an even more valuable scoring asset receiving passes from the guards after they penetrate.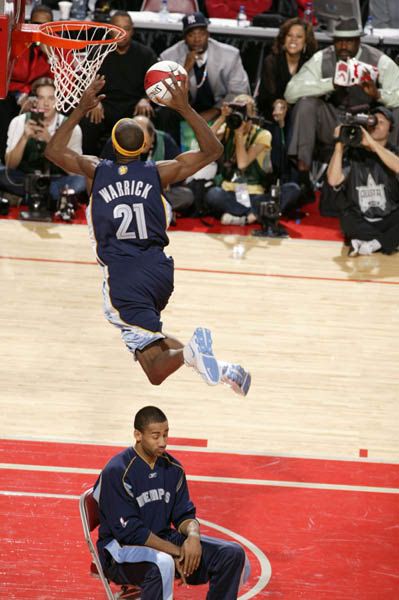 When paired with Rudy Gay, Hakim is part of one of the most exciting forward tandems in the league. How many teams in NBA history have started at both forward positions players that competed in the NBA Slam Dunk contest? Hakim can sky with the best in the league. His enthusiasm for the game in contagious and he can get the fans out of their seats when he hot. His smile and passion allow most Memphians to overlook his faults because he truly plays like a college kid more than a professional. Probably more than anyone else on the team it seems Hakim likes to play basketball.

One has to wonder if Hakim will ever develop as a defensive player. He showed signs of improvement as the season progressed. His steals and blocks were on the rise but only in proportion to the increase in minutes. Yes his absolute number of steals and blocks were higher but not when you factor in the dramatic increase in minutes played. With his age and experience in the league it is unlikely that he will suddenly develop these skills now.

The good news is that Memphis seems to appreciate Hak's efforts and understands his limitations. He is a fan favorite at games and is extremely considerate to the fans. His days as a starter may be numbered in weeks not years depending on the outcome of the lottery but it is unlikely that he would be moved either. Hak is a draw on a team desperate for players that the fans can relate to. His attitude is great and he gives 100% effort whether starting or coming off the bench. Warrick is truly one of the few bright spots on the team right now.