What is the future of NBA basketball in Memphis?

Don't worry -- this isn't one of those doomsday pieces that proclaims that the Grizzlies will be moving next year to Las Vegas, Kansas City, St. Louis or whever else that uninformed people conjure up as a viable relocation site. No, this is going to be a frank look at what the only "big time" pro sports franchise in Memphis needs to do to stay here beyond the city's lease with them.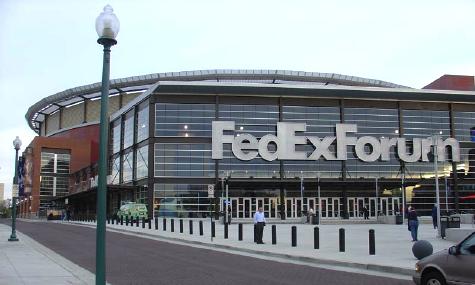 The idea for this sprang from the dissatisfaction that rained down on franchise player Pau Gasol on Wednesday night from the meager gathering of fans at the FedEx Forum. It was originally going to be a frank look at whether or not it was truly time to part ways with the talented Spaniard. Then I decided that the issue was much larger than the presence or absence of just one player. We will start with Gasol though, as he is one of the lynchpins that is holding this convoluted mess together right now. Right now, fans are voicing their displeasure with him (and the team) by booing him during games and by staying away from games en masse. While the first part is troubling, it is understandable. The second part though, is more than just troubling -- it is an issue that has to be addressed and rectified. The team cannot survive in Memphis without fan support.

Is Pau the problem? This is his 7th season in Memphis and he has been the best player every single season. However, as has been noted before, he is better suited to being the #2 option on a consistent playoff contender. Grizzlies fans long ago soured on him being the man who would lead them to the Promised Land -- have they now given up on him being suited up in Beale Street Blue altogether? If that is truly the case and the emergence of Rudy Gay, as well as the potential of Michael Conley are no longer enough to persuade fans to come out to games or that Pau can be a vital part of future success, then he must be moved....and soon. From a business perspective, if something is obviously negatively affecting attendance, then that issue should be dealt with ASAP. Last year, it resulted in the firing of Mike Fratello -- this year it could be the trade of Pau. As Geoff Calkins noted and Gary Parrish recently told me, trading Pau could be the "shake-up move" that puts the team on the right path to title contention. For the record, I still believe that a trio of Rudy/Conley/Pau can contend with the right pieces around them -- namely a defensive stopper at SG (think Raja Bell) and a big man that looks a lot like Darko on his good nights. So, from a basketball standpoint, I think it makes sense to keep him unless presented with an obviously beneficial offer from another team, which means more than Chicago's package of Nocioni/Thomas/draft pick from where I sit. In any case, it is blindingly apparent that something needs to happen to change the perception that this team is adrift with no heading.

That brings me to the next player -- Mike Miller. I've advocated having the former Sixth Man of the Year return to that role, with either Tarence Kinsey (preseason) or Juan Carlos Navarro taking the starting role at SG. I think having his size and scoring ability off the bench at two positions (SG/SF) gives the team greater flexibility. Also, that has always helped to mask his deficiencies as a defender, while maximizing his abilities and strengths. Miller is one of those guys that is a fan favorite wherever he plays, but is also the source of constant criticism from fans who want him to be more than what he is, which is a fantastic role player who doesn't have a defined role as a starter. If the Grizzlies can have him return to his role off the bench, then I'd love to keep him around for the next 4-5 years. Otherwise, I'd have no problem moving him for a shot-blocking big man (is Marcus Camby still available?), a defensive minded SG (Mickael Pietrus, Ronnie Brewer) or a young talented player not currently being afforded playing time (Thabo Sefolosha and Ime Udoka come to mind). I'll even admit that Tom Ziller's piece this preseason might not have been as off-target as I originally thought, although I still shudder to think about trading Miller for an expiring contract and/or a draft pick. This would definitely be classified as a basketball decision, as I don't believe that Miller's play/contract/presence is keeping many fans away.

Other obvious basketball decisions would be the trade of Damon Stoudamire once Conley proves to be healthy and ready to start and the trade of either Stromile Swift (opt-out clause for this offseason) or Hakim Warrick (solid on offense, subpar in nearly everything else), perhaps both of them if a big name could be procured. I realize that Hak has a lot of fans, but he's too skinny to be a PF, doesn't have the skills to play SF and has proven to be mostly one-dimensional to this point in his career. That would not be a bad thing if one plans to be a role player off the bench for an entire career, but unless you're a perimeter player who can score in bunches like Ben Gordon, it isn't going to have too many people excited about paying you a big salary or making you an integral part of their team. These are all moves that should be made prior to the trade deadline, if at all possible.
In my opinion, the most important thing to impart unto fans is not just hope, but something that shows them the direction of the team, a move or statement that gives them tangible evidence that this organization has a plan and will follow through with it. That could mean the trade of Damon and Stro or something far more significant, such as the trade of Mike or Pau. This organization has to establish a plan for the future and let the fanbase know what that plan is. Otherwise, we will all be witness to the self-fulfilling prophecy that is the current state of things, where would-be fans sit around and say "I'm not going to invest time in this team, because they will be leaving town". Well, if you don't support the team, then they will leave eventually. Not tomorrow, not next year and not before the lease is up, but they will leave if there isn't enough support for them. I could preach about the importance of Michael Heisley selling to the local owners, about what the organization needs to do in terms of marketing and sales or about why the loss of Andy Dolich could very well be the first coffin nail. I still believe that what the team does on the court matters more than any of those other things though. When a team wins consistently, gets better each season and makes strides towards being a title contender, the fans will support it, whether the team calls Memphis home, or San Antonio, Sacramento, Toronto or Charlotte. When that happens, petty complaints about concessions, dance teams, ticket prices, location of block parties and halftime shows seem to subside to the point of extinction, as watching a winning team becomes the reason to show up to the arena. Trade Gasol or don't, trade Miller or don't, trade whomever or don't -- once the 50-game evaluation period is up, this team needs to make some moves and be clear about their direction before it digs itself too big a hole to climb out of with its fanbase.